EUROPEAN UNION APPLAUDS NAPE FOR COMBATING GENDER-BASED VIOLENCE, IMPROVING LIVELIHOODS AND BOOSTING FOOD SECURITY IN BUNYORO REGION
By Precious Naturinda
European Union has applauded National Association of Professional Environmentalists (NAPE) for its efforts in combating Gender-Based Violence, improving household income and boosting food security for communities affected by COVID-19 economic shocks and oil and gas extractives in Bunyoro region.
From 2021, NAPE has been implementing a European Funded project "Deepening grassroots women's rights, participation and economic livelihood opportunities in the era of expanding of oil and gas extraction and COVID-19 pandemic in Uganda" in Hoima, Kikuube and Buliisa districts. Under the project NAPE has supported communities in a number of initiatives including establishment of safe spaces to handle cases of gender based violence, provision of farm tools and establishment of gardens to improve food security and income generating initiatives.
During a three days monitoring visit held from 19th to 21st September 2023, Thomas Kamusiime from European Union said he was impressed by the food gardens established, household income generating initiatives for community households such as honey selling, hand craft making, millet packing and the good work done by established safe spaces to combat gender based violence and promote stable families.
Mr. Kamusiime visited Community Green Radio Offices in Kiboga district that amplifies community voices in Kiboga district, and communities of Kaiso, Kabale and Kigaaga in Hoima, Butimba and Kyakatemba in Kikuube district and Kakindo in Buliisa district.
He said that it was a smart idea that NAPE coined the project and implemented it around existing community structures in addition to establishing new ones such as safe and operational spaces that handle issues of GBV. He also applauded the radio for amplifying the voices of local communities and pledged continued partnership.
"I am thrilled to learn from safe space care takers that the work of the safe space in handling GBV, community counseling, conflict identification and mediation both on GBV and land related wrangles is done with close coordination with the Local council system, the family protection units of the Uganda Police and community models of good standing in the community," said Mr. Kamusiime.
Mr. Kamusiime asked communities to use the good work achieved by the project to take advantage of the good road and other infrastructure being put in place by the oil and other sectors to boost their incomes through product selling, accessing markets and improving on value addition to attract market.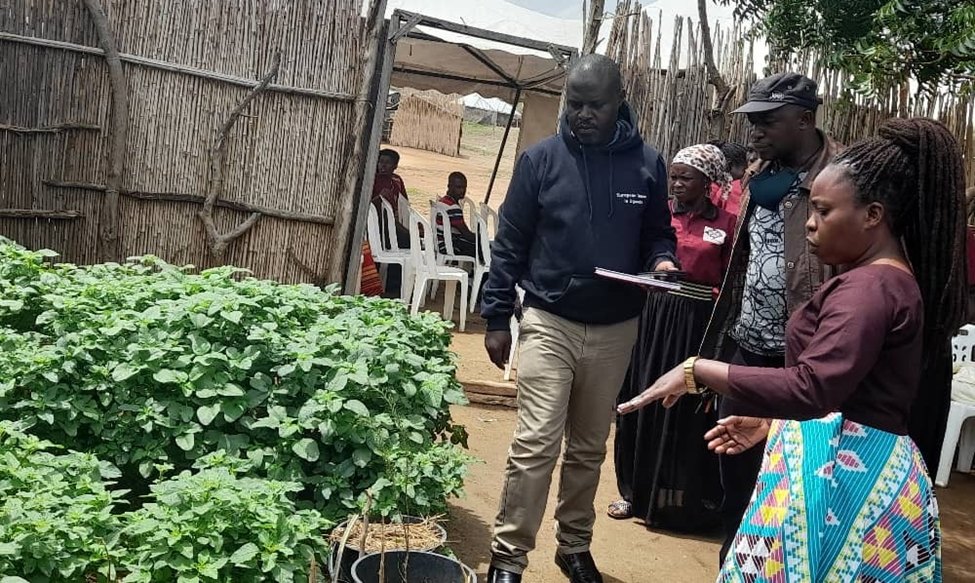 The Communities said the farm tools like the hoes and wheel barrows have been instrumental in enabling them grow food and carry manure to the gardens. They also noted that the space spaces have helped in conflict resolution both in families and communities.
"Gender Based Violence and food insecurity are major challenges at Kaiso fishing village. We largely depend on the Lake and markets for food. But NAPE has supported us to have kitchen gardens which are helping us to improve food security. Besides, over 80 cases have so far been handled at our safe space but the numbers are overwhelming. We would requesting NAPE to support establish more safe spaces and more support as our members have been increasing also need support," said Kemigisa Slyvia from Kaiso Women's group, one of the communities' supported.
Mr. Bwengye Rajab, the Project Coordinator applauded European Union for the support and called for more support. He said the safe spaces are receiving overwhelming numbers of people who need their issues resolved adding that there is need to establish more safe spaces.
According to Bwengye, the most recent spot talley of cases recorded by caretakers at all the 20 established safe spaces in all the 3 operational districts were 1,186 out of which 953 were resolved at safe space sites. He notes that others have been refered to police for further management contributing to a success rate of 80%.
He also noted that the 30 targeted groups have registered increased number of members who need more support with farm tools.
ENDS//
COMMUNITY GREEN RADIO CELEBRATES BELATED WORLD ENVIRONMENTAL DAY WITH A COMMUNITY CLEANING EXERCISE
Community Green Radio organized a cleanup exercise in Kibiga town in its host district- Kiboga to create public awareness on proper disposal of wastes in commemoration of belated World Environmental Day celebrated on 5th June each year.
The event was led by the radio staff and joined by local leaders and the radio listeners on 27th August.
It involved waste collection, sorting and sensitizing the members of the community on the dangers of poor waste disposal. The day was crowned with a friendly football match between the radio staff and the listeners which saw the radio winning 1-0.
The radio listeners appreciated the role the radio has played in raising awareness on environmental conservation.
The female district councilor for Kiboga town council, Ms. Sarah Nakitende said the radio's education programs have supported the leaders' efforts in raising awareness on environmental conservation.
Julius Kyamanywa, the station manager said plastics have become part of our daily lives due to their convenience but have been disposed carelessly leading to massive pollution. He explained that the drainage channels and soils are choking on plastics leading to floods, soil infertility and blockage of drainage channels.
He said the solution to reversing pollution starts with living as responsible citizens urging the public to desist from the behavior of indiscipline littering.
This year's theme for World Environmental Day was Beat Plastic pollution. In Uganda, the celebrations ran under the theme, "Stop Plastic Pollution today."
According to the National Environmental Management Authority, Uganda has produced over 12,330 metric tons of Polyethylene Terephthalate (PET) plastics since 2018. Of this, 42%is uncollected, 15% collected through value chain approach and 43% collected by the service providers. About 21,728 tons of plastic is burned, 47,457 tons is landfilled or dumped, 160 tons retained and 13,580tons finds its way into water systems.
NEMA also affirms that as a result of plastic pollution, the country has seen increased unexplained cancers, floods, poor air quality, decreased soil fertility, siltation of water bodies, death of livestock, fish and wildlife through ingestion and entanglement and enhanced greenhouse gas emissions.
GOVERNMENT OF UGANDA SUPPORTS FARMERS IN KIBOGA DISTRICT WITH TRACTORS
Government through the office of the Prime Minister has donated 4 tractors to farmers in Kiboga to engage and improve on agricultural production.
Three tilling and one drilling tractors were given to individual and groups at an agricultural exhibition that was held in Kiboga town council on 20th August.
While handing over the equipment, Ugandan Prime Minister Robina Nabbanja urged the beneficiaries to utilize the equipment communally to boost agriculture production and productivity.
She also urged the farmers to use the Parish Development Model(PDM) funds as startup capital for agri-businesses. He urged technical staff at the District to ensure that they follow up farmers to give them technical advice.
Abdul Mutumba, the Kiboga West Member of Parliament urged schools to have school gardens to enable learners get skills at schools.
The exhibition was aimed at mobilizing and educating farmers on value addition.
Among the exhibitors was Fridays for Future Uganda which is working with National Association of Professional Environmentalists (NAPE) under gender and climate coalition to empower young women through organic kitchen gardens, value addition and trainings.
The coalition under the PISCCA project is being supported by the French Embassy.
The exhibition was broadcast live on Community Green Radio to give a voice to other farmers who were not able to make it to the function.
CASH IS OVER BUT NO DEVELOPMENT; PIPELINE AFFECTED PERSONS HAVE NOWHERE TO GO ONCE PIPELINE WORK STARTS IN KYANKWANZI AND KIBOGA
People affected by Hoima-Kampala Petroleum products pipeline in Kiboga and Kyankwanzi districts in central Uganda are pondering the next move once the pipeline works begin after misusing their compensation money.
The Hoima-Kampala Petroleum products pipeline will stretch for 211km from Hoima in Western Uganda to Buloba along Kampala-Mityana road in Wakiso district in central Uganda. The Resettlement Action Plan was handed over to Strategic Friends International.
The residents poke holes in the unsatisfactory land acquisition and compensation process which they say has been characterized by inadequate and delayed compensation, lack of financial literacy programs and lack of guidance on property for property compensation.
Leo Ssebuwufu, one of the affected people from Lwanda village in Kiboga district says due to anxiety for cash coupled with delayed and inadequate compensation, many affected people got loans and by the time the money came, it was unable to replace what had been lost to the pipeline.
"I have no tangible development from my cash compensation. It came at a time I was overwhelmed by loans and it ended up paying the loan," says Ssebuwufu.
Asuman Ssembatya, the Nabidondolo parish chairperson says the sensitization meetings have concentrated in Hoima, Kikuube and Buliisa districts which are hubs of oil activities leaving other districts where the pipelines are passing abandoned.
Ssembatya says the few sensitization meetings have only targeted local leaders leaving people directly affected by pipeline ignorant of how to live a better life after displacement. He notes that as a result, the cash compensation is finished and no livelihood improvement.
"People were not given clear guidance for cash and property compensation. People whose houses were affected have failed to construct new houses because their compensation money was not enough and others misused the money. I wish we know there was an option of property compensation, we would have guided them," said Ssembatya.
Ssembatya said people whose houses were affected and given cash compensation have instead renovated their houses with the hope of getting more compensation from government.
George Matwa, 58, another affected resident from Luanda village says he received his compensation this year in June after more than four years of waiting.
"During the disclosure of my cash compensation, the oil companies only gave me a total figure of my coffee, fruit trees, banana plantation and house that were affected by the pipeline. I don't know how each was valued and I feel I got little money," Said Mr. Matwa.
He adds that, "I feel too weak to start the process of constructing a new house, if I knew of house-to-house compensation, I would have opted for that".
During the community engagement meeting that was organized by the National Association of Professional Environmentalists, NAPE on 1st August this year at Atkon hotel Kiboga, the affected people of Kiboga and Kyankwanzi identified information gap on the whole oil compensation activities as one of the challenges.
They said they have no clear grievance handling channels and the leaders who would be helping address their issues are also ignorant about what takes place.
The meeting that comprised of participants from Hoima, Kikuube, Kyankwanzi and Kiboga districts.
For Hoima and Kikuube, the affected residents said the process of compensation and land acquisition was fair and people have received better houses from government as compensation.
Allan Kalangi, the Sustainability Manager at NAPE said there is need to sensitize affected people especially those in Kiboga and Kyankwanzi on the progress of the pipeline project. He said NAPE will continue organizing sensitization meetings and also through Community Green Radio.
Mr. Kosea Wambaka, the Head of Party and Programmes at Strategic Friends International recently told New Vision newspaper recently that the pipeline will pass through 21 sub counties and will impact 4, 276 individuals. He said 84% of the people have already received their cash compensations in Kikuube, Kyankwanzi, Kiboga and Mityana districts.
Understanding the paradox of idle land and large based agricultural investments in Uganda
In his draft paper, Chinese Agricultural Investments in Uganda and the Paradox of "Idle Land", Banjwa Adventino, a Ph. D. fellow at Makerere University thinks through the paradox of idle land in contemporary debates on land in Uganda and Africa at large.
The paper points out that the idea that Africa is a home to unrivaled idle land but highly productive continues to inspire numerous.
Banjwa argues that the discursive rendering of land idle when everyone knows that people always lived on and used the land before but were forcefully evicted is the epistemological contest concerning what constitutes productive use of land and land use in general. He says on one hand, there is neoliberal state allied with private agricultural capital and on other hand; there are communities in society that become the demands of agricultural capital.
Banjwa's paper, which is based on two Chinese agricultural investment sites in Uganda: Hanhe Farm and Kehonga China Uganda Agricultural Industrial Park, was at the centre of discussion in Intellectual Study Group Discussion on large based agricultural investments and the paradox of idle land.
The Intellectual study group was organized by National Association of Professional Environmentalists in partnership with Rosa Luxemburg Foundation East Africa and attended by scholars, members of civil society, journalists and community members and was held on June 24th at Nican Hotel in Kampala.
Banjwa argues that however much government and investors make claim that the land is idle, the claims have been refuted by people whose dwelling were dismantled to pave way for the agricultural projects.
In his paper for instance, Hanhe Farm which is located on 162 hectares of land in Nakaseke district was public land before.
" …all this land was accessible to communities for grazing, fishing, harvesting of reeds for making mats and roofing houses and harvesting clay soil for brick making… One can look at this land as an epicenter of which people's lives in this community rotated: they could not only count on the proteins obtained from the different forms in the swamp, their animals also depended on this land for grass and water. In short, the entire art of their dwelling was weaved on this basis of land: from obtaining materials and tools to construct their homes, to burying their dead, and to obtaining food for themselves and their animals", according to an extract from the paper.
Banjwa states that the communities' understanding of what constitutes productive land cannot be defined outside the broader web of their engagements on the land but the government and investors still defined it as idle land.
He concluded that contemporary 'idlisation' of land is key to fueling the neoliberal character of current state in Uganda and suggests that the idea of displacement be expanded beyond the conception in terms of displacement of people from their land to encompass the displacement of people's knowledge on what constitutes broadly productive land.
In his discussion on the paper, Prof. Samwiri Lwanga Lunyiigo said when investors come to Sub Saharan Africa; they see invisible Africans with visible land.
"When these investors come to the Sub Saharan Africa, What do they see? Invisible Africans! Why not seen? Because of the concept of development that has been engrained by our leadership. They look at capitalistic view of development. Our leaders have developed a concept that if we don't develop, other people will develop us," he said.
He said what is needed in Africa is pro-people government to take into considerations the pro-people development.
"Land to me is spiritual, cultural and ideological. People are actually using the land for fishing, growing food, grazing their animals but the capitalistic view of development is blind of this. In Mubende, for example, Nyakahuma tree that is respected by a certain clan, it can be cut and converted into timber but its spiritual importance cannot be marketed," he explained.
He said Africans have not come up with what kind of development they need, whose development or whom the development is trying to help. He said food is critical and natives produce food from the said wastelands, empty or idle land.
Sam Kasirye, the ROSA representative in Uganda appreciated Banjwa for the paper. He said such discussions need to be trickled down to local communities to help them appreciate their mode of development before their intellectual disarming, use of coercive forces and militarization of land by investors and government.
Allan Kalangi from NAPE appreciated the discussants and pledged NAPE's commitment in ensuring that the discussions continue.
CSOs resume intellectual study group discussions on land management and compensation alternatives
Civic Society Organizations in Uganda, including the National Association of Professional Environmentalists (NAPE) have resumed intellectual study groups attended by scholars, activists and professionals.
The first intellectual group engagement this year was organized at NICAN Hotel in Seguku –Kampala on 6th May 2023.
Allan Kalangi, the Sustainability School Manager at NAPE said the objective of the study group was to generate debate around Property compensation alternatives with a case study of the East African Crude Oil Pipeline (EACOP) project, generate knowledge and information and also dialogue of the theory and how it is linked to practice.
He explained that it was a follow up of other series of study groups conducted by ROSA Luxemburg Foundation last year. He said the intellectual study group engagements are aimed at triggering thinking around critical issues through dialogues that gather thinkers from different fields and school of thoughts.
Samuel Kasirye from ROSA Luxemburg Foundation said the intellectual study groups started last year with the goal of creating new thinking around land governance.
Kalangi explained that EACOP compensation has been marred by delays and unfair compensation leaving the effected people frustrated.
"There have been challenges with compensation on customary land since land is communally owned by clans or tribes. There is a challenge of who to compensate under this tenure. Additionally, titled land is given a priority and because of this, people are now turning customary land into freehold to get land titles as a proof of ownership but the process of obtaining land titles is complex and expensive. In other areas, land is under Mailo; and is comprised of absent landlords, which has delayed compensation of the land users. Besides, the pipeline is passing through ecologically sensitive areas and has sparked massive destruction", Kalangi noted
Joram Basiima, a community member from Kigaaga Village in Hoima district noted that the community is less involved in the compensation process.
"Compensation rates used in the process of compensation are outdated and people have not been involved in setting the compensation rates leading to unfair compensation. People have been frustrated by delayed compensation and I think this is a trick by oil companies to force people to receive little compensation," said Joam.
During the discussion, Prof. Lwanga Lunyigo, wondered whether the affected people have the leaders.
"Where is the leadership in all this? Where are the members of parliament, the local governments who were elected to protect the rights of citizens? The question we should be answering is; what do you compensate and who are you compensating? People are lacking pro-people policies and people-centered solutions," he said.
Suzan Nakacwa, another participant said compensation in Uganda should be defined in Ugandan context to be able to benefit communities.
"In Uganda, we have not contextualized our problem and uniqueness. Let's go back to the drawing board and define compensation in a Ugandan context. Relocation and compensation requires like 15 years given to affected people for transition, if they want it fairly done. Let's talk about transition of families, crops and everything. Let's go to the communities and hear what the communities are saying and from there we go back to the drawing board", she said.
The participants agreed to involve more affected people in the study groups.
NAPE EXECUTIVE DIRECTOR ASKS JOURNALISTS TO EXPOSE FORESTS AND WETLAND ENCROACHERS
The Executive Director, the National Association of Professional Environmentalists (NAPE), Frank Muramuzi has asked journalists to expose people who are encroaching on protected natural resources.
Speaking during a training of Albertine journalists that was held at Community Green Radio Offices in Kiboga on April 20th, Muramuzi said most journalists fear to expose wetland and forest encroachers.
"I heard that there are influential people in Kiboga, who are carrying out activities in wetlands. You need to investigate them, know how they got licenses and publish the stories. Even the encroachers of Bugoma forest! You need to continue writing about them," he said.
Muramuzi said the developments taking place in Albertine region need objective and courageous reporters that are ready to take on encroachers without fear.
The meeting was aimed at training participants on reporting large scale investments with case study on East African Crude Oil Pipeline.
During the training, Adolf Mbaine, the Makerere university lecturer took the participants through reporting on East African Crude Oil Pipeline (EACOP).
He said the processes and systems involved in producing and distributing oil and gas are highly complex, capital intensive and technological and makes it an underreported sector.
He, however, asked journalists to develop the passion and educate themselves on the industry so that they can report about it.
"Reporting on oil and gas needs a better understanding of characteristics and challenges to be able to know where to start from. Coming up with a strong story is sometimes costly as big money and influential investors who can use their positions and finance to influence. But such stories make us stand out as journalists," said Mbaine.
PIPELINE AFFECTED PEOPLE DECRY INFORMATION GAP AMIDST DELAYED COMPESATION
Jacob Kitezi is one of the pipeline affected residents in Kyankwanzi district who has waited for his compensation cash to hit his bank accounts in vain.
Kitezi, a resident of Kigoma ward in Massode-Kalagi town council was affected by the Hoima-Kampala petroleum Products Pipeline that is proposed to transport refined oil products from the Uganda Oil Refinery in Hoima to a distribution terminal near Buloba in Wakiso district. The pipe passed through is coffee and banana plantation.
However, Kitezi says it's now a year since he was promised his cash compensation. Away from the delayed compensation, he says his property was undervalued since he never participated in the valuation process.
He says the challenge is that he has failed to get the right channels to address his grievances since the area local leaders have no updates on when they are getting their compensation. He also noted that the community liaisons officers for oil companies are not known leaving with them a huge information gap.
"They only invited me to sign papers for my compensation but I dint participate in valuation of my affected property. The money given was little but it's not also coming. Access to information has become a problem because I have no one to ask," said Kitezi.
Rev. Fred Musimenta, a resident of Butimba Village in Kikuube district also expresses the same disappointments. He says addressing human rights concerns by the oil companies have become a problem as they are not clear on the way forward amidst the delayed compensation.
"When I rejected the poor compensation, they promised to get back to me and re-evaluate my property but I have been waiting for them in vain. Whoever I try to ask tells me that they are coming," said Musimenta.
As of December 2022, 2,502(69%) EACOP PAPs were compensated out of 3,648 people in Uganda according to statics obtained from EACOP website.
Dickens Amanya, the Coordinatior for Bunyoro Albertine Petroleum Network on Environmental Conservation (BAPENECO) says people have the right to information and consultation and every district is supposed to have a grievance settlement committee aimed at addressing the concerns of the affected residents.
He said the people affected by the pipeline should follow up with their respective district in order to address the information gap. He was recently addressing people affected by the pipeline in a community engagement that was organized by National Association of Professional Environmentalists(NAPE).
Allan Kalangi, the Sustainability Officer at NAPE said NAPE will continue building the capacity of communities to be able to address their stakeholders on potential environmental and human rights concerns.
WOMEN URGED TO EMBRACE CLIMATE SMART INNOVATIONS AND TECHNOLOGY IN THE FIGHT AGAINST CLIMATE CHANGE
In commemoration of International Women's Day, National Association of Professional Environmentalists (NAPE) held a networking and exhibition event where women were able to share experiences, connect with feminists, climate activists and artists on innovative ways of addressing climate change.
The event that was held at Innovation village in Jinja city was organized by the Gender and climate Change coalition partners –NAPE, Fridays for Future Uganda, Girls for Climate Action and Simma Africa Creative Arts Foundation.
During the event, the women affected by climate disasters shared experiences of how massive crop failures as a result of long dry spells, heavy rains and floods have destroyed their livelihoods.
Ms. Monica Namutebi, a 52-year-old mother of 9 children narrated how she lost her livelihood and sustained injuries when the heavy down pour blew off her roof top and forced her to relocate from Kaliro district in 2019.
Ms. Namutebi, who relocated to Butiki ward in Jinja city, said that she was with her children in the house at around 10:00 PM when the strong wind blew off the roof top following three hours of heavy rains.
"As it was raining heavily, the wind suddenly blew off the iron sheet and hit me while I was trying to save the children. My husband had gone to the bar and I had no one to save me. When I survived, I left the place and relocated with my children," she narrated.
Ms. Esther Batwala, one of the residents from Jinja who relocated from Bududa district following the mudslides noted that losing her property and livelihood to floods has left her to start from scratch.
Ms. Joan Akiiza, the Senior Gender and Legal Officer at NAPE noted that as government is put to task to accelerate efforts to contain the climate crisis which is mainly affecting the women whose livelihood depends on natural resources and the future of the young generation, women and young people should embrace climate smart innovations and technology.
Ms. Sandra Suubi, a musician and a visual artist asked the women and youth to get innovative solutions of ending plastic pollution. Ms. Suubi, who came dressed in an outfit made of plastics, said she is using her talent of visual arts to turn plastics into decorations and also address climate advocacy through music.
"I normally put on the plastic outfit and go the lake shores and this sends a message to them that plastics need to be recycled. As an artist, listening to such heartbreaking stories of women impacted by climate disasters trigger me to compose them into songs which I share with the world on internet and also sing every time I get an opportunity. I am using my talent to advocate for climate justice because it affects everyone including me," said Ms. Suubi during the experience sharing.
Ms. Patricia Namirembe from Fridays for Future Uganda noted that they are using social media to amplify the voices of youth and women affected by climate change and call on leaders to act.
The women were treated to an exhibition which involved dustbins made out plastic bottles, biogas and short videos on making energy saving stoves to minimize on firewood use and electricity bicycles.
The theme for this year's international women's day was, "DigitALL: Innovation and Technology for Gender Equality.
Government of Uganda Approves Construction of East Africa Crude Oil Pipeline amidst delayed and unfair compensation
Rev. Fred Musimenta is among the affected persons in Butimba Village, Kizirafumbi Sub County in Kikuube district that have not yet been compensated for their land earmarked for the construction of the East African Crude Oil Pipeline.
According to Rev. Musimenta, he resolved to halt signing of evaluation and compensation forms pending response to his complaints about unfair compensation.
"My property was undervalued and I refused to sign for that little compensation. The evaluation rates that were used were not current, since then nothing has been done," said Rev. Musimenta.
80-year old Norah Kakenge, another project affected person from Butimba village also wonders why the compensation has been delayed and fears that she might die before receiving her package.
"I am staying with orphans. My land was being used as collateral in the bank to get loan for school fees and now I am not able to do it. It has since affected me that I have nowhere to get money from and these delays make me fear that I might die before I receive it," she said.
Eng. Herbert Magezi Mugizi, the Principle Engineer in the Ministry of Energy and Mineral Development – MEMD disclosed that close to 68 percent of the PAPs have already been compensated while the pending compensations are expected to be concluded by the end of 2023
Despite the delays, cabinet has approved the application by the East African Crude Oil Pipeline Company Limited for a license for the construction of the 1,443 km long East Africa Crude Oil Pipeline in Uganda.
Addressing a press conference on 19th February, Mr. Magezi, said the approval of the applicable license now grants the East African Crude Oil Pipeline Company Limited legal access to start actual construction.
Rev. Musimenta says the green light to pipeline construction leaves them in fear that they will be compromised into consenting to the unfair compensation values as they have done to some of their colleagues.
The land acquisition program for the said project was rolled out in August 2018 and the Petroleum Authority of Uganda (PAU) promised to start compensation in early 2021. However, until today, the project-affected persons have not received compensation, even though they were stopped from using their land.
Kikuube Vice Chairperson, Vincent Opio said people's livelihoods and development progress have been affected by delayed compensation urging the government to accelerate the compensation process for the smooth running of the project.