British High Commission partners with Community Green Radio to raise awareness on plastic recycling
Friday, March 12th, 2021 | By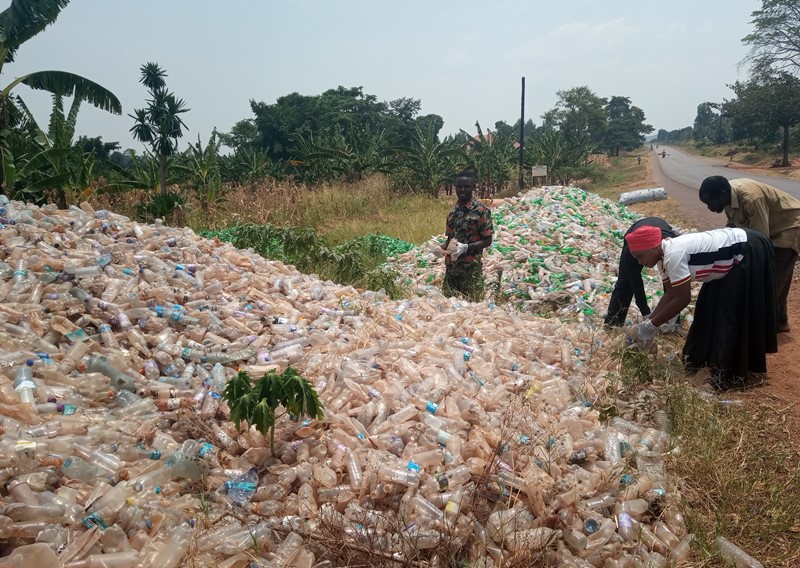 The British high commission Kampala and Community Green Radio are collaborating on various projects aimed at conserving the environment. The two are currently running a project aimed at raising awareness on plastic recycling.
According to research, every year about 8 million tons of plastic waste escapes into the Oceans from coastal nations. While Uganda is not a coastal nation, it is linked to global waters through the river Nile.
Community Green Radio has thus started mobilizing communities through its various listeners clubs, to collect and come up with innovative ways of recycling plastics.
Community Green Radio Senior News Editor Ms. Precious Naturinda says the partnership will enhance the work of the radio and the National Association of professional Environmentalists, NAPE in their efforts towards environmental conservation.
"Our partnership with the British High Commission is timely. This will complement our efforts in empowering communities to take up the fight of environmental conservation," Ms. Naturinda told this website.
Musisi Ndabirwamu, a member of Lwamata Community Green Radio listeners club, says the campaign on proper disposal and recycling of plastics by the radio has opened the communities' eyes.
"As you can see our town is now clean and organized. Since the start of the radio campaign on plastics, our town is clean," Musisi explained.

Musisi adds that plastics have always been littered all over the area since community members have considered them only as garbage with no associated long-term damage. But with the campaign, members have understood the dangers of plastic pollution and begun to find ways of managing them including value in them.

"I didn't know that plastics could be of value but with this campaign, I'm beginning to see the value of plastics and the many uses they can serve," Musisi explained.

Ms. Kengozi Janat the Secretary Lwamata Listeners' club says recycling of plastics will help mitigate adverse effects of climate change and help some members raise income.

"Plastics, if not managed well, end up in drainage channels and wetlands and pose a problem to soil productivity which affects farmers. With this campaign, we are going to mobilize our members to properly manage plastics but also make money through locally using these plastics," Kengozi said.

Kayongo Godfrey, a resident of Kyekumbya village in Kyekumbya Sub County says he has been earning from collecting and selling plastics for many years.

"I have been collecting and selling plastics and selling them to companies in Kampala. I even export them to countries like Rwanda," Kayongo explained.

Kayongo says the motivation to collect plastics was money and the desire to conserve the environment.

"At first I collected them because I was earning from them but later I realized it was also good in conserving the environment," Kayongo added.

Kiboga District Senior Environmental Officer Ms. Nakandi Zainabu says the radio campaign on plastics will go a long way in supplementing government efforts of conserving the environment and improving livelihoods.

"The effort by the radio and their partner the British High Commission is a step in the right direction. As a government we highly welcome these efforts and shall support you," Ms.Nakandi told Community Green Radio reporter.

National Environment Management Authority- NEMA reports indicate that about 51% of the plastic garbage in Kampala city is not collected and ends up in drainage channels, wetlands, natural watercourses, manholes, undeveloped plots and on the roadsides increasing vulnerability of many people to climate change induced impacts. In Uganda less than 5% of plastic is recycled.

To help raise awareness of the plastic problem in Uganda, the British High Commission along with other partners, is supporting an expedition around Lake Victoria of the world's first 100% recycled plastic boat. Named Flipflopi because the plastic boat is covered in 30,000 flipflops, the team will sail around Lake Victoria in a campaign to raise awareness and engage key stakeholders in Kenya, Uganda and Tanzania in the fight against plastic pollution. The campaign is an integral part of the Uganda Water and Environment Week (UWEWK) 2021 led by the Ministry of Water and Environment of Uganda through the Water Resources Institute.

The partnership with the British High Commission is meant to help publicise the voyage and bring the region's attention to the need to conserve our waterways, protect livelihoods and save the environment. The expedition will include various stops around the lake with national events in each country, engaging key players and stakeholders.

Lake Victoria supports more than 40 million people and has been under increased pressure from the dramatic effects of climate change and pollution, which has severely impacted the lake and threatens the health and livelihoods of communities.
The covid-19 pandemic has also accelerated the need to address the environmental crisis, which can only be done through regional and global consensus on key issues. As plastic pollution continues to build at an alarmingly fast pace and East African nations continue to feel the effects of climate change, Flipflopi's Lake Victoria expedition will be calling for action by governments, local communities, private sector and the international community to end unnecessary single use plastic and implement circular economy solutions and policies, to aid a green and sustainable recovery from the impacts of COVID 19.
STORY COMPILED BY JULIUS KYAMANYWA AND SAMUEL MUGABI