BUNYORO KINGDOM PARLIMAMENT, SUBJECTS MAINTAIN THEIR STAND AGAINST T BUGOMA FOREST GIVE AWAY DESPITE DEMOLITION
Tuesday, February 16th, 2021 | By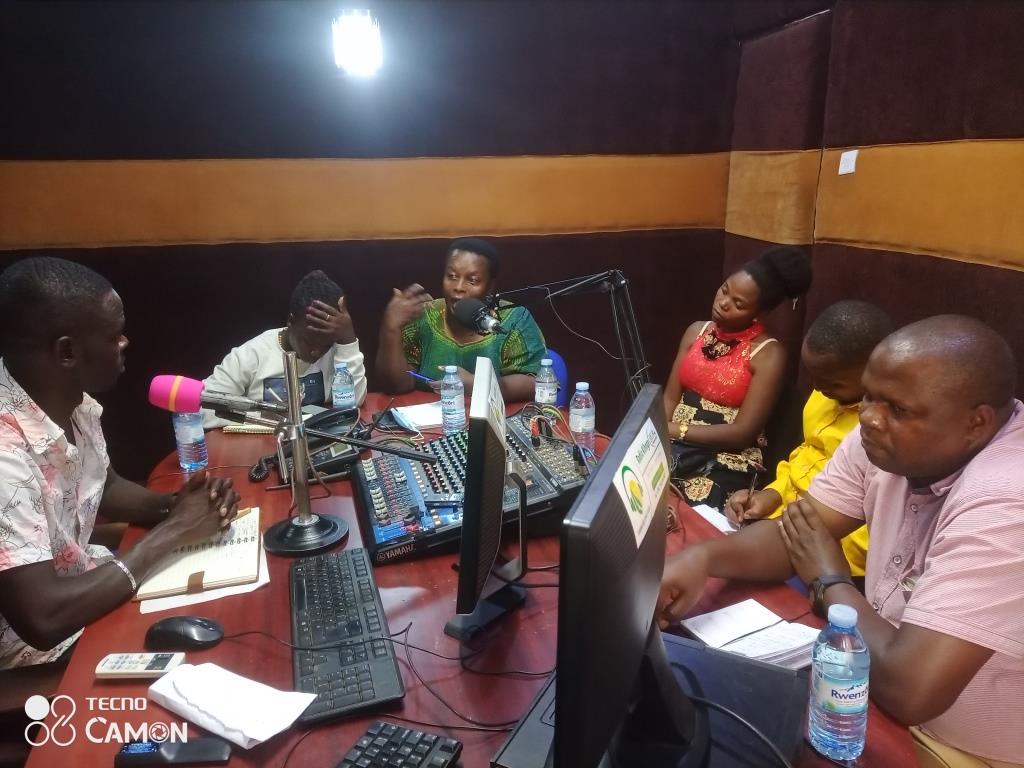 Despite the continuous clearance of Bugoma Forest Reserve for sugarcane growing by Hoima Sugar Limited, Bunyoro kingdom parliament and the kingdom subjects have maintained their stand against the giveaway.
Moses Ssemahunge, the Vice Chairperson of Bunyoro Kingdom Natural Resources committee who doubles as the Representative of Nalweyo Sub County to Bunyoro Parliament says the issue of Bugoma forest giveaway has remained a contentious issue in the kingdom.
This was during a talk show on Community Green Radio about the current status of Bugoma Forest that was held on January 6, 2021
Ssemahunge explained that much as parliament is against the giveaway, they have been let down by the Kingdom administration led by the Prime Minister Andrew Byakutaga and his cabinet.
He says the next parliamentary sitting is ready to impeach some of the Kingdom administrators or force the Prime Minister to resign if their demand of saving Bugoma forest is not adhered to.
"Recently we were supposed to have a parliament meeting but it was called off for unknown reasons. The issue of Bugoma was on order paper. Rukurato(Parliament) is against the giveaway, but some of the administrators give a go ahead. But they will not skip the next meeting; we are demanding that Bugoma be saved or the Omuhikirwa(Kingdom Prime Minister) resigns. We are also ready to impeach some of administrators. As we talk, Hoima sugar has gone ahead with clearing of the forest but we are sure it can still be saved before sugarcane is planted. Since it's a natural forest, it can sprout and get back to its shape. We are sure, the local people will back us," Ssemahunge explained.
Ssemahunge also noted that the Bugoma forest has a great attachment to the kingdom's culture besides; its protection will save the oil-rich region from carbon emissions.
"Culture and environment are highly related. Ebinyege(rattles) that we use in our traditional Runyege dance are got from the forest and any kingdom devoid of its culture is a dead one! Besides, Bunyoro being an oil rich region, we need trees more than never before because of carbon emissions," he expounded further.
He calls upon locals to boycott Hoima sugar as a way of showing resistance.
"It doesn't matter whether the forest belongs to the kingdom or the central government, it should stay! We can put it into other use other than sugarcane growing; actually we are calling on locals to boycott Hoima sugar.
What subjects say
Desire Mulenzi, the Chairperson of Nyairongo Village in Kabwoya Sub County in Kikuube District says the forest has become a hotspot for illegal loggers and charcoal burners as National Forestry Authority, NFA officials look on.
He says NFA officials and the military guarding the forest have backed nature destroyers instead of supporting the locals in protecting the forest.
"Around November 2020 when I tried to inquire about why Hoima Sugar Limited were clearing the forest, soldiers intercepted and arrested me. We shall continue fighting for our forest," Mulenzi noted.
Alice Asimire, the female councillor for Kaseeta in Buseruraka Sub county Hoima District says Bugoma is the source 0f rain, which in turn supports agriculture- the major source of livelihood for women. She also pointed out that it is a source of mushrooms and herbal medicine.
Save Bugoma Campaign insists
Joan Akiza, the Legal and Gender officer at National Association of Professional Environmentalists, NAPE says the forest should be protected due to prevailing climate change effects.
She says Save Bugoma Campaign will continue to push for forest protection until Hoima Sigar limited backs off completely.
Ms. Beitwamasa Jenifer, another advocate of the Save Bugoma Forest campaign said the rate of forest degradation is alarming and women need climate justice. She said women to become change agents by joining movements with shared vision to fight land grabbers- who disguise as investors and at the end push local communities in untold suffering. She also advised women to form climate change centres to work as a learning Centre and spreading the gospel of climate justice.
BACKGROUND
Hoima Sugar Limited leased 5,779 hectares or 22 square miles of land from Bunyoro-Kitara Kingdom in August 4, 2016 after the Omukama(King) Solomon Gafabusa Iguru obtained the title for the land in August 1, 2016.
In 2020, National Environmental Management Authority, NEMA cleared Hoima Sugar Limited to cultivate sugarcane on grassland covering 9.24 square miles in Kyangwali, Kikuube district western Uganda.
During a briefing of the European Union Delegation that had visited the area on 2nd November 2020, the Environment Minister, Beatrice Anywar said that all activities in the forest had been stopped pending resurvey of the boundaries of the forest that had been put on halt until after the presidential elections held on January 14, 2021.
However, this is contrary to what is ground according to Desire Mulenzi, a neighbour to the forest. Mulenzi says Hoima Sugar limited has continued with clearance and illegal logging and charcoal burning are the order of the day.