BULIISA RESIDENTS PETITON UWA OVER WILDLIFE ATTACKS
Residents of Ngwedo and Buliisa sub counties in Buliisa district have petitioned Uganda Wildlife Authority over wildlife attacks.
In their 24th October this year's petition addressed to UWA, the residents neighboring Murchson Falls National Park say the rampant invasion of elephants and buffaloes into the community has led to massive destruction of their crops putting food security at stake and loss of the lives.
The affected villages include Waiga, Kabbolwa, Kijangi, Bbyeriya, Nyamiteete, Katabeela and Bugana-Kichoke in Buliisa Sub County as well as Mubbaku, Ajigo, Mvule1, Kamandindi and Mvule Nunda in Ngwedo district.
Kabagambe Kamanda, the LCIII chairperson of Buliisa Sub County says the elephants and buffalos from the national park have of recent increasingly raided people's gardens destroying their crops. He adds that they have also attacked, killed and injured people.
"Last year, a 15-year old Abdu from Waiga 2 primary school was attacked and killed by stray elephants on his way from school. In February this year, a 67 year old man Moogo Ongyiera was attacked and killed by an elephant while in his garden. In July, Janet Bero Pamungu, 42 was attacked and killed while collecting firewood near her garden in Waiga. While in September, a woman who was carrying her child at her back was attacked by an elephant and severely," said Kabagambe.
Grace Mulimba, a farmer from Kasenyi village in Ngwedo Sub County says she has lost her hectares of watermelon, cassava, sweet potatoes and maize to elephants which are led to food insecurity and loss of livelihoods. She says women spend sleepless nights and now fear to go to their gardens due to fear of attacks.
The residents want installation of electric fence around Murchson Falls National Park to prevent further invasion of animals to the community and prompt compensation to those who have lost their lives and livelihoods.
The petition dated 24th October and signed by over 60 residents, local leaders and NGOs working in Buliisa has been addressed to Uganda Wild Authority and copied in to the ministry of Tourism Wildlife and Antiquities.
Rajab Bwengye, the project coordinator of European Funded project "Deepening grassroots women's rights, participation and economic livelihood opportunities in the era of expanding of oil and gas extraction and COVID-19 pandemic in Uganda" in implemented in Buliisa under National Association of Professional Environmentalists (NAPE) says boosting food security and improvement of livelihoods have been frustrated by the wild animals; a reason they are joining the petition.
He says the destruction of crops by wild animals, in addition to other challenges like displacements caused by oil and gas extraction and COVID-19 pandemic, have affected people's incomes and food security leading to gender based violence.
He said there is need for concerted efforts to ensure that people live in harmony with wildlife.
ENDS
FISHING COMMUNITY ALONG LAKE ALBERT IN HOIMA DISTRICT DEMAND FOR MORE POLICE POSTS
Fishing communities along Lake Albert in Hoima district in Western Uganda are demanding for more police posts to curb lawlessness in the area.
In their petition dated 23rd October 2023, and addressed to Hoima Police Commander and the Resident District Commissioner (representative of the president in the district), the residents throughKaiso Women's Group; a registered community based organization located in Kaiso fishing village, Kabale sub county Hoima raised concern that lack of police posts along the lake has increased underreported gender based violence cases.
According to the petitioners, Hoima district has only one police post along Lake Albert located in Kaiso fishing village that handles cases from other fishing villages of Kyehorro, Tonya, Mbegu Manok, Mbegu Madit, Nana, Fofo, Hoimo and Kijangi.
They noted that the next police post is located in Ssebigoro landing site in Kikuube district while another is in Kabaale Sub County which they say are all very far.
Ms.Sylvia Kemigisa, the group chairperson noted that the group established a community safe space with the help of National Association of Professional Environmentalists (NAPE) in 2021. The safe space is handling cases of gender based violence through mediation, counseling and referral to police by trained community based care takers.
However, the safe spaces are receiving overwhelming numbers from the villages mentioned.
"Some of the victims say the long distance to the police post, congestion at the only available police post which is causing lack of privacy and delayed solving of cases affect them from reporting the cases to the police post," she said.
The petitioners request for more police posts or work with communities to open up more safe spaces.
RESIDENTS IN ALBERTINE REGION NEED ACCESS TO AGRICULTURAL EQUIPMENT TO INCREASE FOOD SECURITY
As Uganda joined the rest of the world to celebrate the World Food Day (WFD) on 16th October, communities in Bunyoro region in western Uganda called on government to support farmers with farm inputs to improve food security and livelihoods.
Fred Musiimenta, the chairperson of Butimba Sustainability Conservation Association (BUSUCA) in Butimba village in Kikuube district says oil and gas developments have increased the population putting pressure on the existing land for food production.
Musiimenta says they are responding to the challenge by establishing mother gardens for a variety of crops and kitchen garden mainly for vegetables to boost household income and increase food security at household level. He, however, notes that farmers need more farm tools to be able to meet the growing demand for food in the region.
Musimenta says with support from National Association of Professional Environmentalists (NAPE) they planted cassava and kitchen vegetables as a group in a bid to boost food security and household income.
He notes that farmers have limited access to farm tools; hand hoes and finances and mostly depend on individual savings to invest in agricultural undertakings which limit their capacity to increased production.
BUSUCA is among 30 community women groups that received farm tools including hoes and wheel barrows, trainings on sustainable agriculture and support to establish mother gardens for variety crops and kitchen garden mainly for vegetables to boost their household income by National Association of Professional Environmentalists (NAPE) under the European Union funded project to improve food security and household income in the era of oil and gas extraction and COVID-19 Pandemic in Hoima, Buliisa and Kikuube districts.
Florence Mujoogo, one of the farmers living in Kijayo camp for internally displaced people in Kijayo village in Kiziranfumbi Sub County in Hoima district says hoes and wheel barrow she received from NAPE have helped to boost her food production at home for consumption and surplus for sale.
"I would in most cases go to the garden alone because my children had no hoes but when I got four hoes from NAPE, they helped me a lot. I am utilizing the family labor at home that was idle due to lack of enough tools," said Mujoogo
Innocent Tumwebaze, a resident of Kyakaboga resettlement camp in Buseruka sub county, Hoima district said the farm tools have helped people in the camp in farm work. He applauded NAPE for supporting them with trainings and farm tools and urged the government and other non-state actors to adopt the initiative.
"Some people miss seasons due to lack of hoes, they have to wait for their neighbors to finish farm work to borrow from them. But NAPE has helped us. We are using the hoes that we received to led out to those who do not have," said Tumwebaze.
Margret Wombe, a resident of Kigwera village in Buliisa district noted that to improve food security, there is need of supporting farmers with farm tools to help them meet the growing demand for food in the district.
"You find that a family of 5 able bodied members of labor force has no enough hoes and are forced to stay at home yet they can contribute to food production. And when there are no enough farm tools, women end up carrying the burden of using the available ones to provide food for the remaining unproductive labor force," says Wombe.
Rajab Bwengye, the coordinator of Projects at NAPE says there is need for more provision of hand hoes to support the most vulnerable rural smallholder farmers to increase agricultural production considering the fact that majority of them cannot afford appropriate mechanization technologies for cultivation.
MEN URGED TO BE ALLIES IN ENDING GENDER BASED VIOLENCE
Local leaders in Albertine region have been urged to be allies in ending gender based violence against women and girls.
According to 2022 Police Annual Crime report, Albertine region registered the highest number of domestic Violence cases in 2022 with 1,841 cases registered out of 17,698 cases country wide. The report further shows that more women and girls as victims of domestic violence compared to men.
Fred Lukumu, the LCV chairperson for Buliisa district attributes the high cases of domestic violence to land conflicts, oil and gas developments and impacts of COVID-19pandemic that have led to displacements, poverty and food insecurity.
Mr. Lukumu notes that to tackle this challenge, both women and boys should be involved in finding solutions to eradicate violence.
"Not only women but also men should see violence as unacceptable in society and be willing to stand up against it," said Lukumu.
He appreciated men who are already engaged in conflict resolution and mediation in Buliisa under different platforms. He applauded National Association of Professional Environmentalists (NAPE) for empowering both men and women in ending gender based violence and solving conflicts through community safe spaces.
From 2021, NAPE established community safe spaces to handle cases of gender based violence under a European Funded project "Deepening grassroots women's rights, participation and economic livelihood opportunities in the era of expanding of oil and gas extraction and COVID-19 pandemic in Uganda" in Hoima, Kikuube and Buliisa districts
According to Rajab Bwengye, the projects coordinator, both men and women have been trained to identify and address gender based violence through mediation, counseling, and referral and follow up to police in 20 community safe spaces established in three districts.
Eddie Watuma, one of the community based caretakers in Buliisa toen council community safe space, says men have a responsibility to take the lead and influence their peers in fighting against the stereotypes in community that cause gender inequality.
He noted also noted that men who are victims of gender based violence find it easy to report cases to their fellow men who are taking part in counseling and conflict resolution.
"During conflict solving sessions, we have learnt that men need sensitization and involvement if we need to end violence. Some men think that beating women is normal because that's how society brought them up. But when we sit them down and counsel them, they turn out to be change agents," said Watuma.
According to Bwengye, cases recorded by caretakers at all the 20 established safe spaces in all the 3 operational districts are 1,186 out of which 953 were resolved at safe space sites. He notes that others have been referred to police for further management contributing to a success rate of 80%.
ENDS
EUROPEAN UNION APPLAUDS NAPE FOR COMBATING GENDER-BASED VIOLENCE, IMPROVING LIVELIHOODS AND BOOSTING FOOD SECURITY IN BUNYORO REGION
By Precious Naturinda
European Union has applauded National Association of Professional Environmentalists (NAPE) for its efforts in combating Gender-Based Violence, improving household income and boosting food security for communities affected by COVID-19 economic shocks and oil and gas extractives in Bunyoro region.
From 2021, NAPE has been implementing a European Funded project "Deepening grassroots women's rights, participation and economic livelihood opportunities in the era of expanding of oil and gas extraction and COVID-19 pandemic in Uganda" in Hoima, Kikuube and Buliisa districts. Under the project NAPE has supported communities in a number of initiatives including establishment of safe spaces to handle cases of gender based violence, provision of farm tools and establishment of gardens to improve food security and income generating initiatives.
During a three days monitoring visit held from 19th to 21st September 2023, Thomas Kamusiime from European Union said he was impressed by the food gardens established, household income generating initiatives for community households such as honey selling, hand craft making, millet packing and the good work done by established safe spaces to combat gender based violence and promote stable families.
Mr. Kamusiime visited Community Green Radio Offices in Kiboga district that amplifies community voices in Kiboga district, and communities of Kaiso, Kabale and Kigaaga in Hoima, Butimba and Kyakatemba in Kikuube district and Kakindo in Buliisa district.
He said that it was a smart idea that NAPE coined the project and implemented it around existing community structures in addition to establishing new ones such as safe and operational spaces that handle issues of GBV. He also applauded the radio for amplifying the voices of local communities and pledged continued partnership.
"I am thrilled to learn from safe space care takers that the work of the safe space in handling GBV, community counseling, conflict identification and mediation both on GBV and land related wrangles is done with close coordination with the Local council system, the family protection units of the Uganda Police and community models of good standing in the community," said Mr. Kamusiime.
Mr. Kamusiime asked communities to use the good work achieved by the project to take advantage of the good road and other infrastructure being put in place by the oil and other sectors to boost their incomes through product selling, accessing markets and improving on value addition to attract market.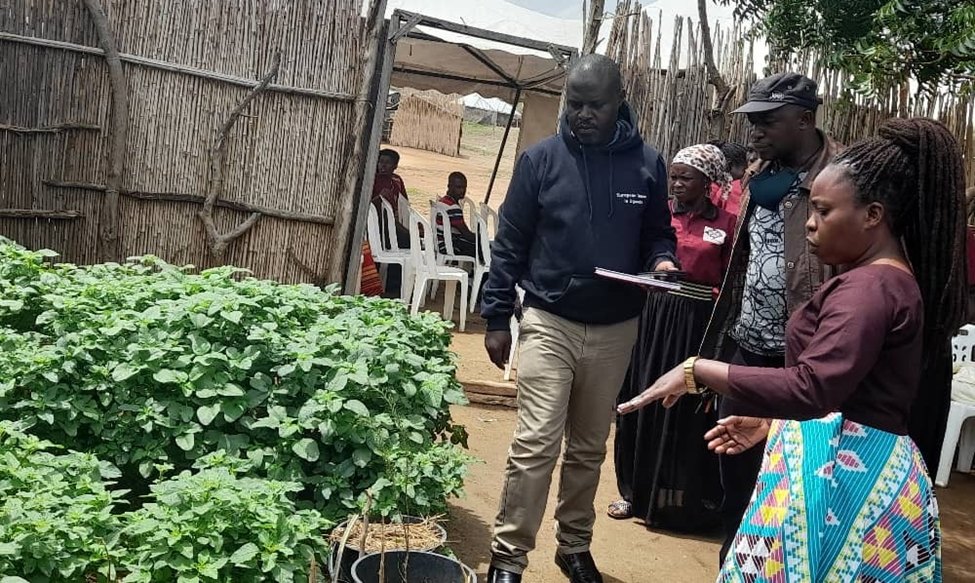 The Communities said the farm tools like the hoes and wheel barrows have been instrumental in enabling them grow food and carry manure to the gardens. They also noted that the space spaces have helped in conflict resolution both in families and communities.
"Gender Based Violence and food insecurity are major challenges at Kaiso fishing village. We largely depend on the Lake and markets for food. But NAPE has supported us to have kitchen gardens which are helping us to improve food security. Besides, over 80 cases have so far been handled at our safe space but the numbers are overwhelming. We would requesting NAPE to support establish more safe spaces and more support as our members have been increasing also need support," said Kemigisa Slyvia from Kaiso Women's group, one of the communities' supported.
Mr. Bwengye Rajab, the Project Coordinator applauded European Union for the support and called for more support. He said the safe spaces are receiving overwhelming numbers of people who need their issues resolved adding that there is need to establish more safe spaces.
According to Bwengye, the most recent spot talley of cases recorded by caretakers at all the 20 established safe spaces in all the 3 operational districts were 1,186 out of which 953 were resolved at safe space sites. He notes that others have been refered to police for further management contributing to a success rate of 80%.
He also noted that the 30 targeted groups have registered increased number of members who need more support with farm tools.
ENDS//
Uganda National Meteorological Authority partners with Kiboga district to give weather updates to farmers
Precious Naturinda and Edison Ndyasiima
Peter Makubuye, a small holder farmer from Kakoora village in Kibiga sub county Kiboga district has had rough time dealing with unpredictable weather conditions. According to Makubuye, his main source of livelihood is growing maize, beans, coffee and banana plantations.
However, he says the erratic rainfall and extended dry spell has over time left him in losses. He says weather conditions have increasingly become unpredictable as opposed to olden days when they would use indigenous knowledge to predict.
"Whenever I would experience much heat, I would tell that the rains are around the corner and start preparing the gardens but this is no longer the case. These days we are taken by surprise. The rains come and disappear at a time you least expect. I put in a lot of money and get low yields," said Makubuye.
It is against this background that Uganda National Meteorological Authority (UNMA) has partnered with Kiboga district local government to ensure that farmers get updated weather forecasts to help farmers plan accordingly.
The Authority started with training at the beginning of this month (September) of district technical officers from climate sensitive sectors – agriculture and water departments- and farmer group leaders on climate resilient measures.
Abubaker Kalema, a Senior Meteorologist at UNMA says the authority will be sharing early warning weather information with the farmers using mainstream media and WhatsApp groups.
He says Kiboga district, whose population predominantly relies on rain-fed agriculture, has been affected by unpredictable weather. He, however, notes that farmers have been lacking timely and accurate weather information. He says weather information sharing is key to build climate resilience at local level.
Makubuye, who was one of the beneficiaries of the training, says there has been a big gap in sharing information directly to farmers who are affected by the weather patterns from the UNMA. He says the partnership will make weather information dissemination to farmers easy.
According to information from Kiboga district agriculture department, the district experiences challenging unpredictable weather conditions of erratic rainfall and extended dry spell during the March-June planting season.
This has resulted into poor crop yields for annual crops such as maize and beans, horticultural crops like tomatoes, cabbages and also inadequate pasture and water production. The district authorities fear that this may lead to low future supply of agricultural commodities, moderate food availability supply and high prices.
Extreme weather conditions are increasingly frequent and severe across African region including Uganda.
According to Notre Dame Global Adaptation Initiative (ND-GAIN 2021), Uganda is ranked 10th most vulnerable country to the impacts of climate change and the 35th least readying in teams of preparedness for the climate change effects.
ROTARY CLUB RECOGNISES COMMUNITY GREEN RADIO'S MOBILISATION EFFORTS TOWARDS THE CANCER RUN 2023
Community Green Radio has been recognized for its contribution towards Rotary Cancer Run 2023 in Kiboga and the surrounding districts that saw Rotary Club of Kiboga raise 7.8 million shillings. The money will be used to facilitated the construction of a cancer clinic at Nsambya Hospital.
The radio Radio supported the club by arising awareness about the event which was held on 27th August through radio talk shows and adverts.
Rotary club of Kiboga awarded the radio with a certificate of appreciation. The certificate was handed over to the radio staff by Kiboga Rotary President, Ms. Doreen Mukisa at a function that was held at Kiboga Town Council Playground.
COMMUNITY GREEN RADIO CELEBRATES BELATED WORLD ENVIRONMENTAL DAY WITH A COMMUNITY CLEANING EXERCISE
Community Green Radio organized a cleanup exercise in Kibiga town in its host district- Kiboga to create public awareness on proper disposal of wastes in commemoration of belated World Environmental Day celebrated on 5th June each year.
The event was led by the radio staff and joined by local leaders and the radio listeners on 27th August.
It involved waste collection, sorting and sensitizing the members of the community on the dangers of poor waste disposal. The day was crowned with a friendly football match between the radio staff and the listeners which saw the radio winning 1-0.
The radio listeners appreciated the role the radio has played in raising awareness on environmental conservation.
The female district councilor for Kiboga town council, Ms. Sarah Nakitende said the radio's education programs have supported the leaders' efforts in raising awareness on environmental conservation.
Julius Kyamanywa, the station manager said plastics have become part of our daily lives due to their convenience but have been disposed carelessly leading to massive pollution. He explained that the drainage channels and soils are choking on plastics leading to floods, soil infertility and blockage of drainage channels.
He said the solution to reversing pollution starts with living as responsible citizens urging the public to desist from the behavior of indiscipline littering.
This year's theme for World Environmental Day was Beat Plastic pollution. In Uganda, the celebrations ran under the theme, "Stop Plastic Pollution today."
According to the National Environmental Management Authority, Uganda has produced over 12,330 metric tons of Polyethylene Terephthalate (PET) plastics since 2018. Of this, 42%is uncollected, 15% collected through value chain approach and 43% collected by the service providers. About 21,728 tons of plastic is burned, 47,457 tons is landfilled or dumped, 160 tons retained and 13,580tons finds its way into water systems.
NEMA also affirms that as a result of plastic pollution, the country has seen increased unexplained cancers, floods, poor air quality, decreased soil fertility, siltation of water bodies, death of livestock, fish and wildlife through ingestion and entanglement and enhanced greenhouse gas emissions.
GOVERNMENT OF UGANDA SUPPORTS FARMERS IN KIBOGA DISTRICT WITH TRACTORS
Government through the office of the Prime Minister has donated 4 tractors to farmers in Kiboga to engage and improve on agricultural production.
Three tilling and one drilling tractors were given to individual and groups at an agricultural exhibition that was held in Kiboga town council on 20th August.
While handing over the equipment, Ugandan Prime Minister Robina Nabbanja urged the beneficiaries to utilize the equipment communally to boost agriculture production and productivity.
She also urged the farmers to use the Parish Development Model(PDM) funds as startup capital for agri-businesses. He urged technical staff at the District to ensure that they follow up farmers to give them technical advice.
Abdul Mutumba, the Kiboga West Member of Parliament urged schools to have school gardens to enable learners get skills at schools.
The exhibition was aimed at mobilizing and educating farmers on value addition.
Among the exhibitors was Fridays for Future Uganda which is working with National Association of Professional Environmentalists (NAPE) under gender and climate coalition to empower young women through organic kitchen gardens, value addition and trainings.
The coalition under the PISCCA project is being supported by the French Embassy.
The exhibition was broadcast live on Community Green Radio to give a voice to other farmers who were not able to make it to the function.
CASH IS OVER BUT NO DEVELOPMENT; PIPELINE AFFECTED PERSONS HAVE NOWHERE TO GO ONCE PIPELINE WORK STARTS IN KYANKWANZI AND KIBOGA
People affected by Hoima-Kampala Petroleum products pipeline in Kiboga and Kyankwanzi districts in central Uganda are pondering the next move once the pipeline works begin after misusing their compensation money.
The Hoima-Kampala Petroleum products pipeline will stretch for 211km from Hoima in Western Uganda to Buloba along Kampala-Mityana road in Wakiso district in central Uganda. The Resettlement Action Plan was handed over to Strategic Friends International.
The residents poke holes in the unsatisfactory land acquisition and compensation process which they say has been characterized by inadequate and delayed compensation, lack of financial literacy programs and lack of guidance on property for property compensation.
Leo Ssebuwufu, one of the affected people from Lwanda village in Kiboga district says due to anxiety for cash coupled with delayed and inadequate compensation, many affected people got loans and by the time the money came, it was unable to replace what had been lost to the pipeline.
"I have no tangible development from my cash compensation. It came at a time I was overwhelmed by loans and it ended up paying the loan," says Ssebuwufu.
Asuman Ssembatya, the Nabidondolo parish chairperson says the sensitization meetings have concentrated in Hoima, Kikuube and Buliisa districts which are hubs of oil activities leaving other districts where the pipelines are passing abandoned.
Ssembatya says the few sensitization meetings have only targeted local leaders leaving people directly affected by pipeline ignorant of how to live a better life after displacement. He notes that as a result, the cash compensation is finished and no livelihood improvement.
"People were not given clear guidance for cash and property compensation. People whose houses were affected have failed to construct new houses because their compensation money was not enough and others misused the money. I wish we know there was an option of property compensation, we would have guided them," said Ssembatya.
Ssembatya said people whose houses were affected and given cash compensation have instead renovated their houses with the hope of getting more compensation from government.
George Matwa, 58, another affected resident from Luanda village says he received his compensation this year in June after more than four years of waiting.
"During the disclosure of my cash compensation, the oil companies only gave me a total figure of my coffee, fruit trees, banana plantation and house that were affected by the pipeline. I don't know how each was valued and I feel I got little money," Said Mr. Matwa.
He adds that, "I feel too weak to start the process of constructing a new house, if I knew of house-to-house compensation, I would have opted for that".
During the community engagement meeting that was organized by the National Association of Professional Environmentalists, NAPE on 1st August this year at Atkon hotel Kiboga, the affected people of Kiboga and Kyankwanzi identified information gap on the whole oil compensation activities as one of the challenges.
They said they have no clear grievance handling channels and the leaders who would be helping address their issues are also ignorant about what takes place.
The meeting that comprised of participants from Hoima, Kikuube, Kyankwanzi and Kiboga districts.
For Hoima and Kikuube, the affected residents said the process of compensation and land acquisition was fair and people have received better houses from government as compensation.
Allan Kalangi, the Sustainability Manager at NAPE said there is need to sensitize affected people especially those in Kiboga and Kyankwanzi on the progress of the pipeline project. He said NAPE will continue organizing sensitization meetings and also through Community Green Radio.
Mr. Kosea Wambaka, the Head of Party and Programmes at Strategic Friends International recently told New Vision newspaper recently that the pipeline will pass through 21 sub counties and will impact 4, 276 individuals. He said 84% of the people have already received their cash compensations in Kikuube, Kyankwanzi, Kiboga and Mityana districts.