NAPE CONDEMNS HUMAN RIGHTS VIOLATIONS INFLICTED ON KIJAYO CAMP RESIDENTS
Tuesday, February 16th, 2021 | By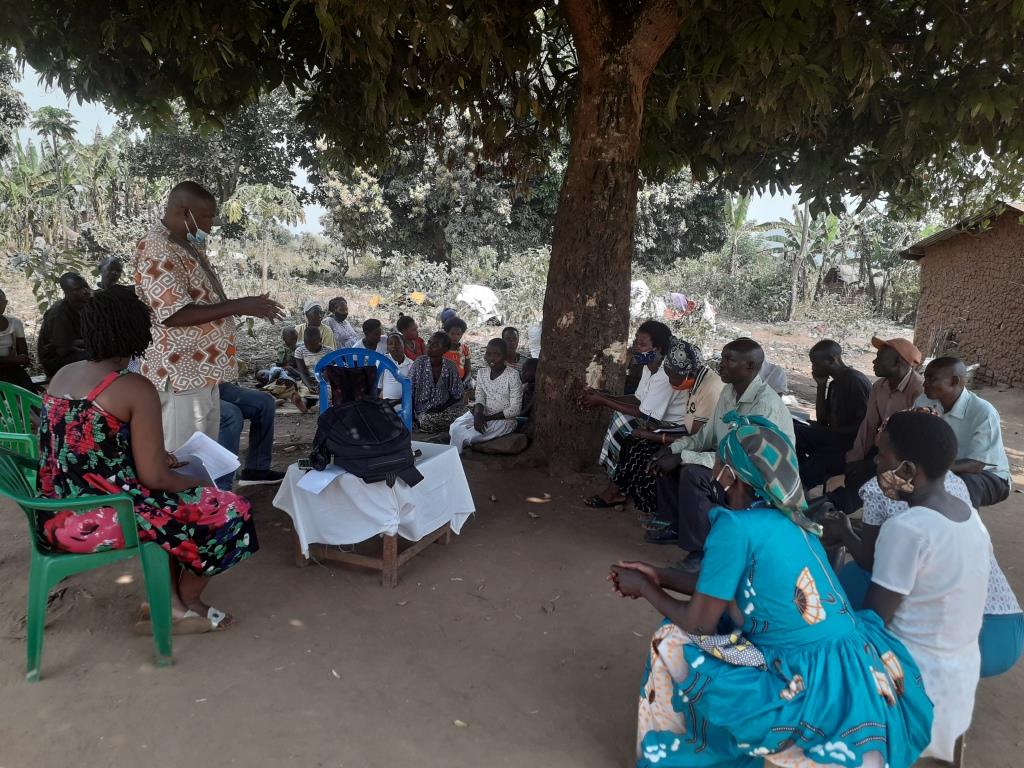 National Association of Professional Environmentalists (NAPE) has condemned the human rights violations inflicted on Kijayo camp residents waiting justice for their land by Hoima sugar limited.
NAPE Executive Director, Frank Muramuzi who visited Kijayo Camp for Internally Displaced People (IDP) on February 07, said investors grab land for their own benefits without considering the fate of affected people. He asked the residents not to lose hope and to continue pushing until they get justice.
"These investors who take people's land mind much about profits without considering the needs of the local people. That's why these people who have taken away your land have proceeded to destroy Bugoma Central Forest Reserve. However, you should not give up on seeking justice," Muramuzi said.
This is was after the evicted residents decried harassment by Hoima Sugar company workers and contamination of their sources of water with sugar molasses.
The residents say Hoima Sugar Limited discharges sugar molasses to the existing water sources used by the residents and because of this, the water has changed its color to foul black with a stench smell which leaves them in fear of causing any water-related health issues.
They also noted that the Hoima Sugar factory workers are harassing the residents with impunity. They say these issues combined with poor living conditions in the camp and food insecurity have driven affected residents out of the camp to look for survival elsewhere even before justice for their land is delivered.
"The molasses from the sugar factory ends up in our water sources. We are forced to use and drink contaminated water because we have no choice. In addition, Hoima sugar workers look at people from the camp as useless with no future. They knock us with their vehicles-some have been maimed and others lost children. Women and children fear to go through the sugarcane plantation alone because they risk rape. Because of this, people have started running away from the camp," said Esther Turyaheebwa, a resident of Kijayo camp.
Joan Akiza, the NAPE Lawyer says NAPE intends to start a project of conflict resolution and peace building among the affected residents and is optimistic that the issues will be addressed through mediation and improving women's livelihoods.
"It is very unfortunate that communities continues to lose their land and be illegally evicted without following the due process when the government that is supposed to protect the people is the one witch-hunting them. Government should be able to balance the interests of local communities and multinational companies. Whereas people should give away their land, it should be in free and fair manner. Compensation should not be demanded for years by those affected to reach at a point of giving up. That's why we are coming in to ensure peaceful co-existence through mediation and dialogue," Ms.Akiiza explained.
The project dubbed, "Enhancing the role of women to promote peaceful co-existance and prevent conflicts," will be operating in Kijayo and Kyangwali in Kikuube and Rwamutonga in Hoima districts.
Kijayo residents, who have been in the camp for about 6 years after being evicted by Hoima Sugar Limited to pave way for sugarcane growing, have waited for court to decide their fate for close to two years in vain.