NAPE DONATES TO KIBOGA COVID-19 TASK FORCE
Monday, May 25th, 2020 | By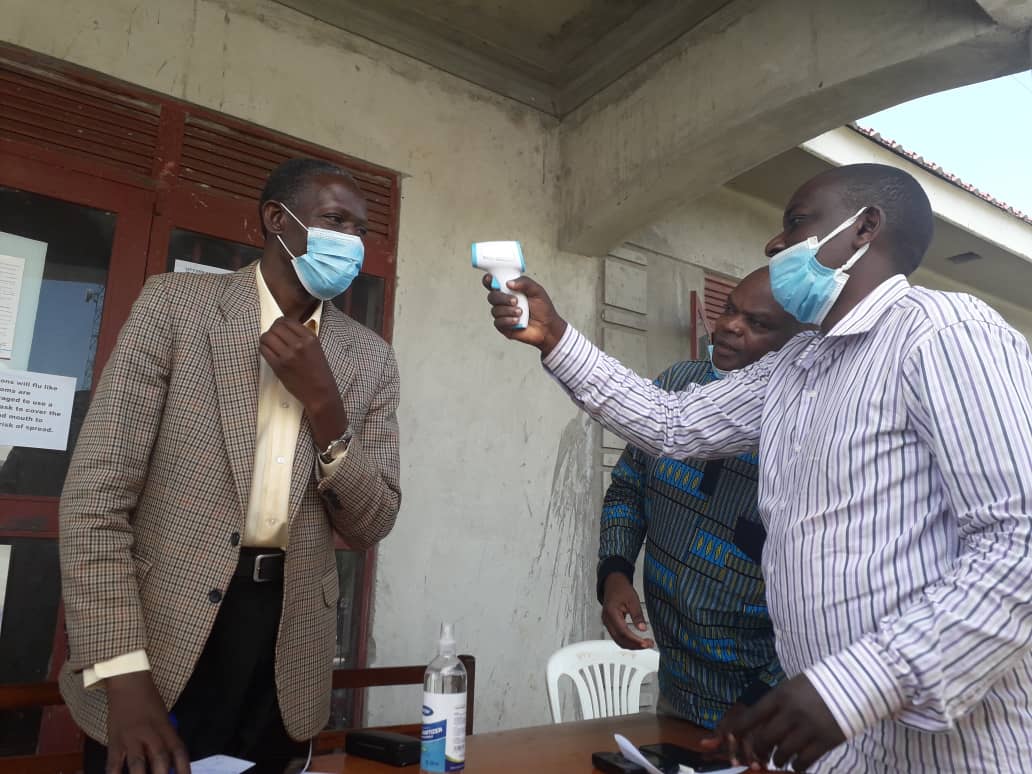 National Association of Professional Environmentalists, NAPE has contributed to Kiboga district COVID 19 Task Force to help fight against the Coronavirus.
NAPE, with support from Rosa Luxemburg Foundation, provided hand washing water tanks, Infrared thermometers, sanitizers and face masks.
The items were handed over to Hajji Umar Mawiya, Kiboga district Resident district Commissioner, who is also the Chairperson of district COVI 19 Task Force. Present at the handover was also the District Chairperson, Israel Yiga and the function was held at Community Green Radio Offices on May 21.
Frank Muramuzi, the NAPE Executive Director explained that the organization thought it wise to support the district that hosts the Community Green Radio as a way of helping communities prevent the spread of the virus.
"We got support from our development partners and secured these items and today we are handing them over to the task force for use by the listeners of the radio", explained Mr. Muramuzi.
During the handover, Mr. Muramuzi also emphasized the need for promotion of environmental conservation by stopping encroachment on wetlands especially in the current situation where the country is experiencing floods and rising water levels especially at Lake Victoria.
The RDC Kiboga District Mr. Mawiya commended NAPE and Community Green radio for supporting the struggle in the fight against Covid-19 pandemic by donating and giving back to the community.
"This donation is timely. In our district budget, we had budgeted for only 2 infrared thermometers because these days they are very expensive. I want to thank you for giving back to community and having communities at heart," said Mr. Mawiya.
Mr. Mawiya also applauded the radio for playing a great role in alerting the public about Covid-19 and Environmental conservation.
"We also want to thank you for being pro-community. Once you touch the environment, you have touched people's lives", he added.
The Kiboga district chairperson Israel Yiga also appreciated NAPE for the donation and applauded the radio for changing the mindset of the community about Environmental conservation, advocating for the rights of the masses through daily programmes that sensitize the public.
"The number of people and homesteads that have planted trees has greatly increased compared to previous days meaning that the community has greatly adopted the messages about conservation" said Yiga.