NAPE IN A CAMPAIGN TO RAISE AWARENESS ON SAFE USAGE OF AGRO-CHEMICALS AND PROMOTING ORGANIC PEST CONTROL METHODS IN THE OIL REGION
Tuesday, April 20th, 2021 | By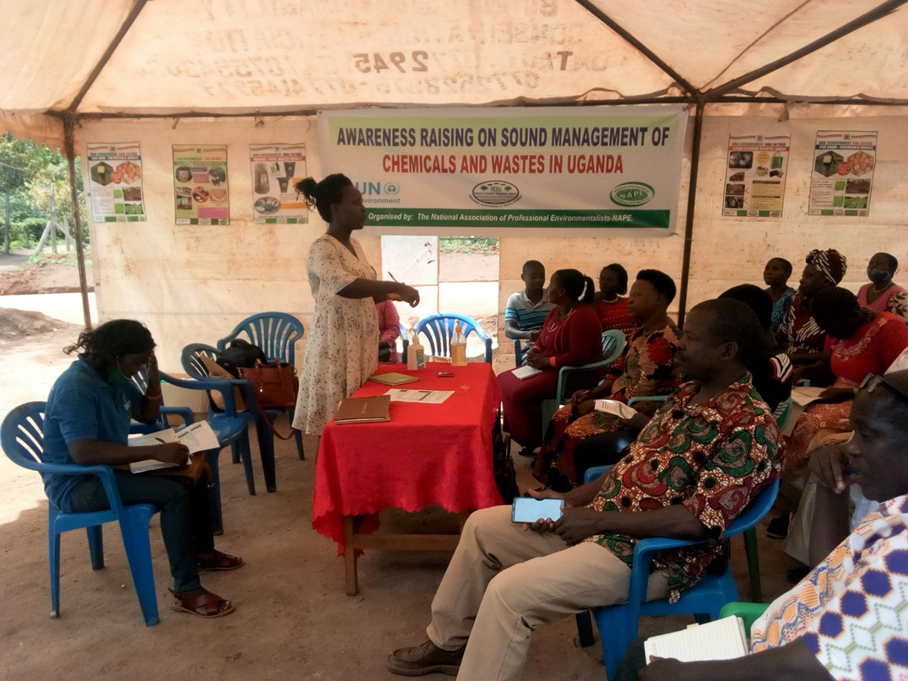 The use of chemicals in agricultural practices has become inevitable in fighting crop pests, disease and weeds.
However, there has been concerns on risks of continued application of poisonous chemicals on health and environment. Experts warn that excessive use and misuse of chemicals pollutes water resources, causes biodiversity loss and compromises the safety of food.
It is for this reason that National Association of Professional Environmentalists (NAPE) is in a campaign to sensitize farmers about the dangers of careless application of pesticides and other agricultural chemicals as well as promoting organic pest control methods.
On March 25, NAPE held a sensitization meeting that attracted over 60 farmers from Hoima and Kikuube districts. They were sensitized on risks associated with the use agriculture chemicals and available sustainable organic solutions of managing pests and soil fertility.
Fatuma Nantambi, the Agricultural extension service provider from Hoima District Farmers Association (HODFA) said the use of organic methods of farming enhances good yields since natural components of the soil are maintained.
She said that farmers do not observe safety measures like wearing protective gears including gumboots, overalls, gloves, helmets and facial masks and reading precautionary measures about the usage.
"Agro-chemicals greatly affect farmers because they do not ascertain their effects on the soil and the plants. It is good to embark on use of organic methods like applying animal dung or chicken droppings as manure; mulching to control weeds and use of other locally made pesticides,"Fatuma explained.
In the meeting, farmers were also trained on the use of organic pest control methods and use of agricultural practices like mulching to control weeds.
Kabaale Women Farmers group demonstrated how farmers can come up with organic pesticides by mixing black jack, Neem/Lemon leaves, onion and garlic, tomato leaves and soap. The ingredients can be pounded to come up with well blended liquid that can be used for spraying.
The group chairperson, Annet Kasoro said organic agricultural inputs have far reaching advantages and saves money when using them than buying Agro-chemicals.
"The Kabaale women farmers group resorted to using organic pesticides and seed preservatives to reduce on health and environmental risks related to agrochemicals," Kasoro explained.
Amos Byabasore, a maize farmer from Kigaaga village said that he has resorted to using organic agro inputs because he underwent a nasty experience when using agrochemicals to spray army worm from maize which in turn affected his health.
"Farmers are taken up by agro-chemicals yet they do not care to follow the healthy procedures required when using these chemicals. I almost died from inhaling a chemical while spraying. I vomited and became sick for some days, am careful and I now use organic materials," confessed Byabasore.
Peruth Atukwatse, the NAPE Officer in charge of Chemicals Management and Climate Change, said the meeting aimed at sensitizing farmers on safe usage of agriculture chemicals, wastes management and promoting non-chemical pest control measure to protect consumers and farmers from excessive chemical residues in food and protect the environment.
"Apart from agro chemicals, there are other chemicals that we interact with on daily basis and these cause harm to our bodies depending on handling, usage and disposal. We want the communities to know the dangers associated and how to regulate their use, "says Atukwatse.