NAPE INITIATES MEDIATION WITH HOIMA SUGAR LIMITED THAT GIVES HOPE TO KIGYAYO EVICTED RESIDENTS IN KIKUUBE DISTRICT
Tuesday, November 15th, 2022 | By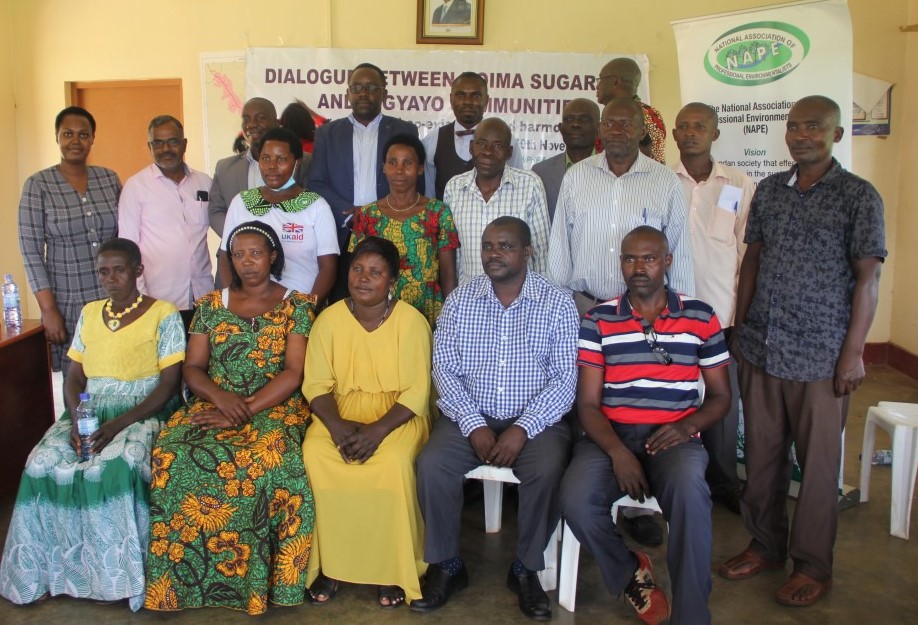 Evicted residents living in Kigyayo camp for Internally Displaced Persons (IDP) and Hoima Sugar Limited, a sugar company in Kiziranfumbi Sub County have started the process of resolving the long stand conflict caused by human rights abuses and infringement of the rights to a healthy environment by the company.
This was reached at in a dialogue meeting between the company and effected residents that was organized by National Association of Professional Environmentalists (NAPE) and Kikuube district leaders at the district headquarters on November 11th.
Over 300 families that were evicted by Hoima Sugar limited to pave way for sugarcane growing in 2014 accused the company of allegedly contaminating the water sources, causing air pollution and destroying access roads in their area.
In a meeting, the evicted residents led by Steven Buryahika said they have been treated to inhumane conditions from the time they were evicted from their land in 2015 up to now.
"The water sources have been turned into dumping sites for sugar molasses and bagasse which have percolated into wells and the streams destroying the water. The water has turned black and smells making it unsafe for use. Even communities living near the dumping sites have also been affected by toxic bagasse dust," said Buryahika during the meeting.
The area village chairperson, Edward Tumusiime said the molasses have also affected the community roads and the residents have no option but to pass through sugarcane plantations which has exposed women and teenage girls to defilement and rape.
"There company sugar workers are engaged in acts of rape, defilement and knocking our people with company cars because they use risky roads that go through the sugarcane plantation," Tumusiime said
In a meeting, the Company Agro-manager, Rethinasamy Venket pledged that the company would fund the establishment of a police post in Kiswaza Trading centre to handle lawlessness among the workers and the community and also open up a company liaison's office to strengthen the collaboration.
On rehabilitation of community roads, water sources and solving solution, Venket said the company will hold talks with the local leaders to address them. To this, a four-member committee consisting of the village chairperson, LC111 chairperson, Woman councillor and the District Natural Resources Officer was selected to start the talks with the sugar company and will give a report in two weeks' time.
Peter Banura, the district Chairperson said the land that was taken was fertile and a food basket and people who lost it need to be heard and empowered to support the company than harassing them. He said dialogue was long overdue urging the company to stick to its commitments.
Joan Akiiza, the NAPE lawyer said the long standing conflict needs to be solved amicably to ensure that the company runs the business without destroying the natural resources and infringing on human rights.