NAPE SUPPORTS WOMEN WITH A MILLET GRINDING MACHINE TO IMPROVE THEIR HOUSEHOLD INCOME
Tuesday, July 13th, 2021 | By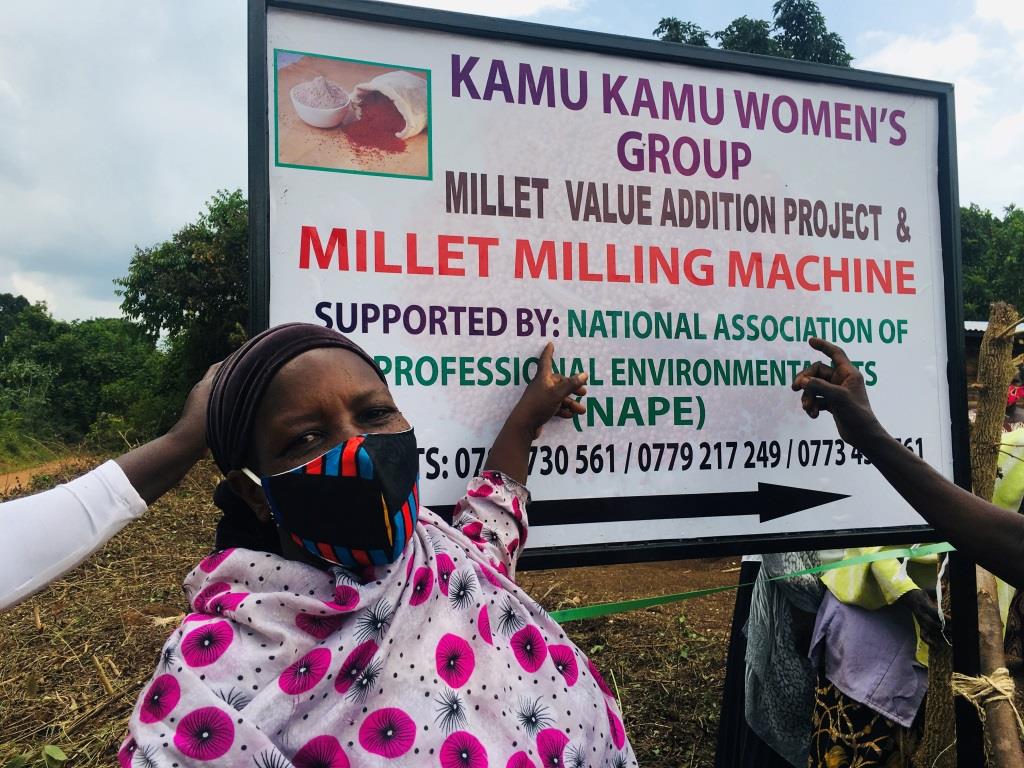 Beatrice Makune, a 52 year old small holder farmer from Kasomoro village in Hoima district has been relying on farming for all her life. Growing up from a peasantry family and missing out on education, Makune got married at 17 years.
To make matters worse, she was widowed at 38 years and left with less than an acre of land to raise her 10 children. As a subsistence farmer, Makune has been utilizing her small piece of land; growing different crops including millet to get income and food for the family.
However, she did not know that adding value to her drought resistant cereal crop would bring her abnormal profits until she attended a millet value addition training that was organized by National Association of professional environmentalists (NAPE) in March this year.
Makune is among the 60 women that were trained on access to better markets through millet value addition for improved livelihoods. The women were trained on how to plant millet, millet preparation, branding and marketing. Fast forward after the training, the women formed Kamu Kamu Women's Group and are now supplying packed millet flour in their community.
"I was making losses! I would sometimes sell millet from the garden or immediately after harvesting. I would sell a kilogram of millet at 1,500 Uganda shillings. Right after the trained us, we could wait to make losses anymore! We contributed millet as members and started packing clean millet. Now our profits have doubled. We sell at 5000 shillings a kilogram of packed millet flour. We thank NAPE for opening our eyes," said Makune, now the group chairperson of Kamu Kamu women's group.
Under Participation and Opportunities for Women Economic Rights (POWER) project, NAPE has supported the group with a millet grinding mill to ease their work burden and also generate income as group.
The machine was handed over to the women by NAPE.
Ms.Makune, the group chairperson said the group was happy to receive the grinding machine. She said they have been having a challenge of taking their millet far for grinding which was time consuming. She said it will go a long way in improving women's economic empowerment.
Kabahangi Monica, the area district woman councilor said the group was the first of its kind in the sub county to receive a grinding machine. She said some of the challenges affecting women in their community include violation of women's rights due to limited income and violation of property rights.
Ms.Kabahangi appealed to women to use the project to improve women's income and ensure that women start buying land on their own.
Women in Kasomoro are among the women that have been supported under POWER project implemented by NAPE and National Association of Women's Action in Development (NAWAD) to actively promote and protect women's land and economic rights in Hoima, Buliisa, Nwoya and Amuru districts.
Sostine Namanya, the Project Lead and Gender and Food Security Officer at NAPE said women bear the burden of feeding and supporting families yet compulsory land acquisition in these districts has left them without access to traditional livelihood resources.
She said women have been trained in different local alternative livelihoods like kitchen gardening, beekeeping and crafts making to improve their economic muscle while others have been supported to pursue their land related cases.
While handing over the milling machine, Namanya urged women to ensure that the operationalization of the machine is women-led.