NAPE WINS 2019 UGANDA RESPONSIBLE INVESTMENT (URI) AWARD AS THE BEST ENVIRONMENTAL PROTECTION ORGANISATION
Tuesday, November 26th, 2019 | By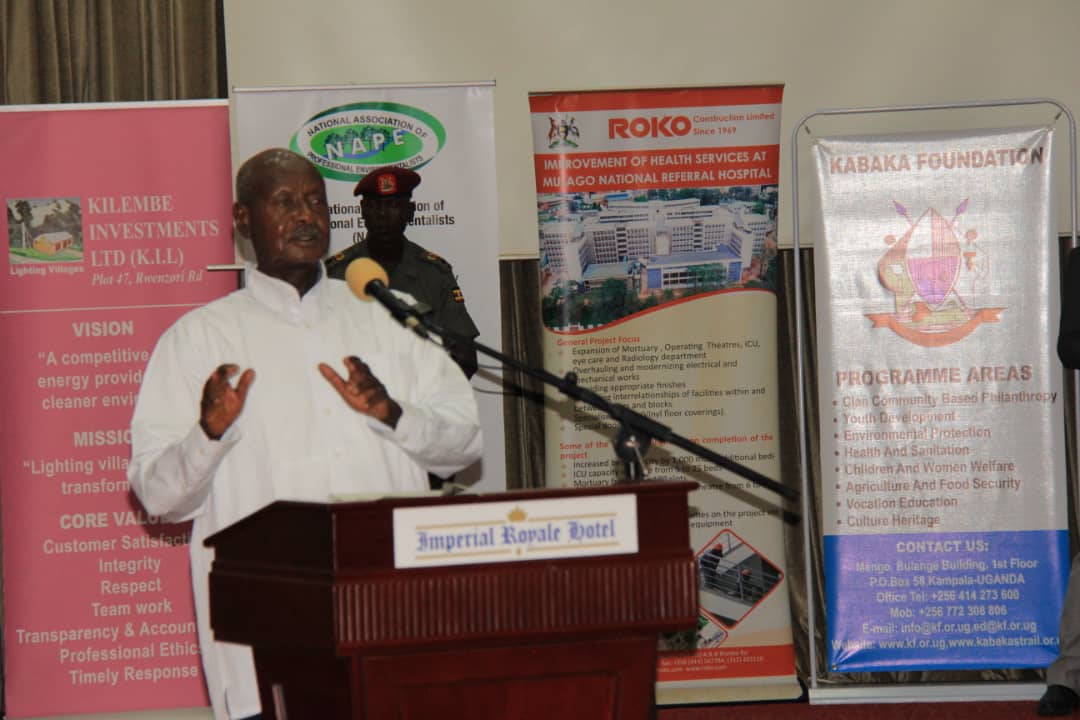 National Association of Professional Environmentalists (NAPE) has been awarded as the best environmental protection organization in Uganda.
NAPE was recognized and appreciated for its contribution towards attainment of Uganda Vision 2040 and the United Nations Sustainable Development Goals (UN SGDs) through promoting and upholding international best practices and standards.
The certificate of award was received by the NAPE Executive Director, Mr. Frank Muramuzi on 22nd November during the 2019 High Level Uganda Responsible Investment Summit and award ceremony that was presided over by Ugandan President Yoweri Kaguta Museveni. The ceremony that was held at Equatorial Hotel in Kampala was organized by Public Opinions and Office of the Minister of State for Privatization and Investment.
Addressing the investors, President Museveni expressed concern over massive degradation of wetlands and forests which he said he will not tolerate. He attacked irresponsible investors who have degraded forests and wetlands thinking they are promoting sustainable development yet they are greatly contributing to climate change.
Mr. Muramuzi said the award manifests the visible achievements by the organization especially in areas of environment protection and human rights.
"Now that the government can recognize NAPE, it means it (NAPE) has hit its target and goals as an environmental organization," Muramuzi said while addressing staff.
Rajab Bwengye, the Coordinator of Projects at NAPE said receiving the award means that NAPE has excelled in environmental protection.
"NAPE has been criticizing big environmental polluters and degraders, manufacturing industries, mining companies, oil companies, companies producing consumer products using chemicals and others. So being awarded as the best environmental organization in the presence of sector players is an indicator that we have done our part to ensure that these private sector companies observe the laws, guidelines and best practices for environmental protection," Mr. Bwengye said.
Mr. Bwengye added that all that NAPE wants is constructive engagement with private sectors so that as they produce and manufacture their products and offer their services, they should give the environment the first priority.
NAPE was also recognized by Buliisa district local government for being a key partner towards the development of the district. The certificate was handed over to Ms.Sostine Namanya, the NAPE officer in charge of gender and food security by the District Community Development Officer, Bernard Barugahara on 13th November.
NAPE has been at the forefront of campaigns against environmental degradation among which includes campaign to save Mabira Forest, campaign against Bujagali dam and save Bugoma Forest.
In 2007, NAPE disputed the giveaway of around 27 square kilometers of Mabira forest to Sugar Corporation of Uganda Limited (SCOUL) owned by Mehta Group of Companies for sugarcane plantations. The government in collaboration with SCOUL had proposed to de-gazette this part of the forested land and transfer its ownership to the sugar company. NAPE in conjunction with other civil society groups formed a pressure group codenamed 'Save Mabira Crusade' which mobilized Ugandans across the country and beyond to protest the forest de-gazettement plan. The government bowed to pressure and abandoned the plan to de-gazette the forest. However, in 2011, the government again attempted to resurrect the de-gazettement plan but NAPE and other civil society met the president who suggested a joint research between the activists and State House on economic values of the forest which would inform the government on their next step. Since then, the government has kept silent on the Mabira forest issues.
NAPE was also against the construction of Bujagali power dam saying it would not benefit Ugandans and it presented numerous social, economic and environmental problems. However, the Government and World Bank did not listen to the concerns of environmental activists and went ahead to approve the dam project in 2001. Today the dam that was expected to add 250 MW to the national grid is unable to produce 180 MW and electricity demand continues to rise in the country. NAPE warned that Bujagali would not generate the projected megawatts.
In Albertine Region, NAPE has campaigns against Bugoma forest give-away for Sugar cane plantation, campaign on food security and seed sovereignty and protection of sacred natural sites.