NAPE'S LOCAL PEACE COMMITTEE CURBING CONFLICTS IN KYANGWALI REFUGEE CAMP
Monday, May 2nd, 2022 | By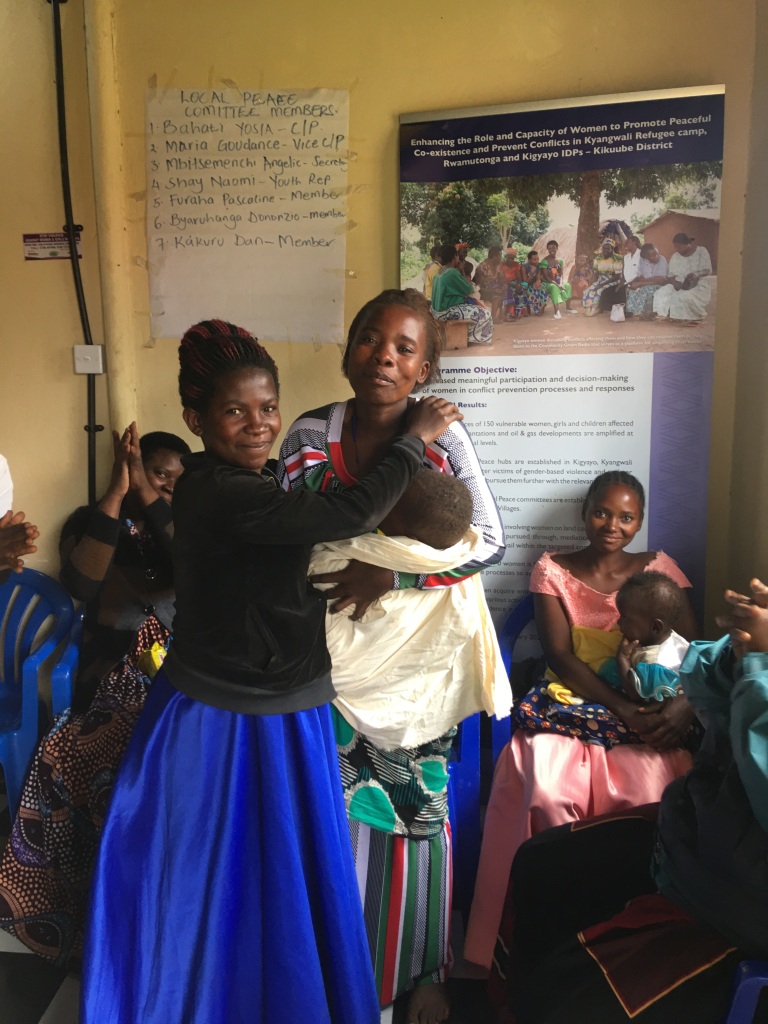 "We ran away from conflicts in Democratic Republic of Congo so we need sanity and peaceful co-existence here in a refugee camp," said Maria Godance, the Vice chairperson of Local Peace Committee in Kyangwali Refugee camp in Kikuube district after resolving a land conflict case.
The case was reported by Maombe Esther a 26 year old mother of three who claimed that her small plot of land given to her by the Office of the Prime Minister was grabbed by her neighbor, Wimana Thereza. The long standing feud between the two parties began in 2017, when Maombe was hospitalized at Hoima Regional Referral Hospital for three months. Upon her return, she found when Wiman was already cultivating her land.
However, Maombe's efforts to seek assistance from their local leaders at Refugee Welfare Council One (RWC1) yielded no results as the leaders constantly demanded her money to solve her case which she did not have. The conflict was resolved and the two reunited in April this year after the intervention of the Local Peace Committee established by National Association of professional Environmentalists (NAPE).
According to Maria Godance, the trauma of violence, loss and displacement that was experienced by the refugees back in their countries was felt by many and people's needs in the camp make them easily irritated.
The case that was resolved is among over 50 cases that have been reported to LPC members; some of which have been resolved, others referred while others pending hearing.
According to the Local Peace Committee members, most conflicts are related to poverty, fetching water at water points, inadequate land for cultivation and domestic violence which are affecting women and girls.
Fredrick Buankela, one of the Committee member says Local Peace Committees is one of the mechanisms where such conflicts and tension in the camp are resolved.
The LPC consists of men and women who serve as mediators and spread messages of peaceful co-existence and use of non-violent conflict solving.
"Back home, before the war, life between men and women was better, our husbands had money and could take care of families. After we lost everything, things became difficult in the families. Through the local peace committees, men and women learn about forgiveness and being patient," said Buankela while counselling couples who had reported a case of domestic violence.
Nyegenya Vincent, the NAPE's Kyangwali Peace Hub focal person says Local peace committee also works with police in handling cases that go beyond the structure of local peace committees.
He also notes that peace-building work needs to ensure that refugees can live in dignity and look beyond merely serving the next day and for this case income generating activities such as knitting are part of the project.
"Women are engaged in knitting and basketry so that they can get income and reduce the conflicts," says Nyegenya.