WOMEN IN OIL REGION CELEBRATE INTERNATIONAL WOMEN'S DAY WITH A PETITION TO GOVERNMENT OVER LAND RIGHTS ABUSES
Saturday, March 13th, 2021 | By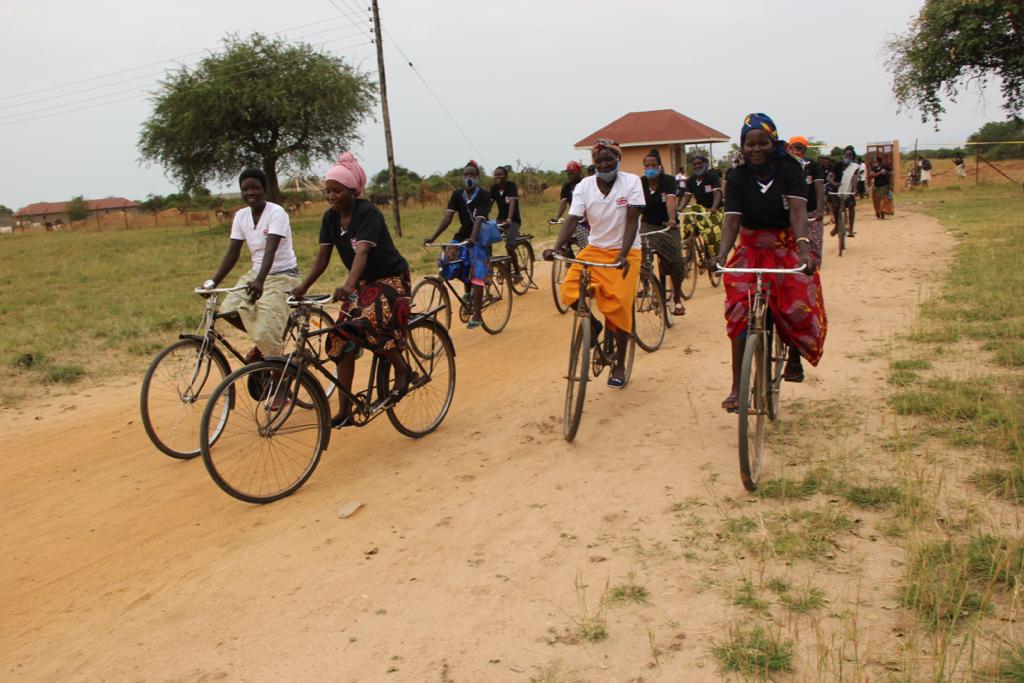 Over 60 women affected by land grabs in Northern Uganda and Oil region spent the big part of International Women's day on 8th March in a bicycle caravan aimed at raising awareness on the women struggles against land injustices in Buliisa district western Uganda.
The cycling event comprised of people with disabilities, victims of land evictions, internally displaced persons, people living with HIV/AIDS, grassroots women and women activists from Buliisa, Hoima, Amuru and Nwoya districts. It was organized by National Association of Professional Environmentalists (NAPE) and National Association of Women Action in Development (NAWAD) with support from Kakindo Women's Integration Development Association (KAWIDA).
The women raced a 4- kilometer distance  from Albertine Nile Hotel to Buliisa district local government to hand over a petition to government officials to address land injustices and promote women's rights on land.
The petition was handed over to the Buliisa District Member of Parliament, Nora Bigirwa Nyendwooha.
In the petition, women say compulsory land acquisition for government projects have made women more vulnerable due to challenges arising from delayed and poor compensation.
" Women particularly those from Buliisa district feel left out of the land acquisition and compensation processes even though they are principle land users in their communities," the petition reads part.
They also raised a concern that cultural norms and values have made women to be regarded as land users not owners which limits their efforts to get empowered economically.
"Discriminatory cultural practices and norms, poverty, ignorance of laws and policies at national and district levels are some of the key factors which contribute to sidelining women in the land acquisition and compensation process," the petition further reads.
The women, among other demands, want government to make a deliberate action to sensitize women about land rights and women-alone capacity, sensitization and consultation meetings to allow them have a safe space to speak freely and express themselves.
While receiving a copy of the petition, Bigirwa said she will address the issues before the speaker of Parliament of Uganda. She said women are indeed struggling with land injustices by their families and clans yet they are the bread winners.
She urged women to start saving money so that they can buy their own land.
"As women, we continue to be discriminated. Why should women be land users not owners yet we are the bread winners? Most of us are paying school fees when men are not doing anything; and when it comes to decisions, men think we are less important. I will ensure that these demands reach the table of the speaker of parliament," she noted.
Sostine Namanya, the Gender and Food Security Officer at NAPE said NAPE will supporting women through sensitization, economic empowerment and legal aid support to ensure that they access to justice and protect women's rights on land.
Christine Bwailisa from NAWAD noted that leaders should actively support women to advocate for their land rights.
The two winners of the bicycle race were awarded with local alternative start-up kit geared towards promoting economic empowerment.